Investing in turkey exports to Mexico benefits Indiana corn, soybean farmers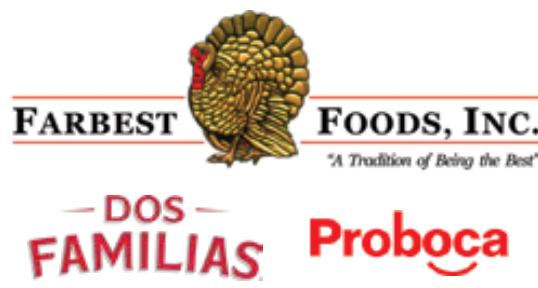 The USA Poultry and Egg Export Council (USAPEEC) doesn't really care if the chicken or the egg came first. They just want to make sure that consumers around the world buy U.S.-grown poultry and eggs. This philosophy extends to turkey, duck and other products, as well.
The Indiana Soybean Alliance (ISA) and the Indiana Corn Marketing Council (ICMC) have supported many USAPEEC projects for several years because expansion of our state's poultry industry adds market value to Indiana's soybean and corn crops. One of those projects includes marketing efforts to increase turkey consumption in Mexico.
ICMC board member David Ring produces corn, soybeans and turkeys on his farm in Huntingburg, Ind. He understands that increased turkey consumption in Mexico, through these checkoff-funded efforts, will help his farm's bottom line.
"Here in Dubois County, turkey production is huge," Ring explained. "We're the No. 1 county in Indiana for turkey production, and we consume a whole lot of local corn. In fact, we don't have enough corn. We bring in a lot of corn from the rest of Indiana to feed all of the turkeys we have here in Dubois County."
Ring is among the 225 farm families in Indiana, Illinois and Kentucky who raise turkeys for Farbest Foods, a turkey processor based in Jasper, Ind. In mid-May, ICMC, ISA travelled to Monterey, Mexico, to assess the progress of their investment in Farbest Foods and their export efforts into Mexico. ISA and ICMC toured turkey food processing plants and grocery stores in Mexico. Many of the turkey products in the country were sourced from southwestern Indiana farms.
Farbest Foods started in the late 1960s. Through most of the 1970s, they processed less than 1 million whole turkeys per year – mostly for the Thanksgiving and Christmas seasons. Today, Farbest processes more than 15 million turkeys per year. This growth comes from opportunities to export turkey products.
"International markets for Farbest are very important," said Ryan Downes, vice president of sales for Farbest Foods. "Roughly 30 percent of the overall volume we produce on an annual basis goes to export markets. Of that, 95 percent of our exports go to Mexico. Obviously, it's an important market for us."
With the help of USAPEEC and Indiana's corn and soybean farmers through checkoff funding, Farbest Foods began working with a Mexican meat processor called Proboca, which launched a "Mexicanized" turkey label called Dos Familia.
"One of the largest success stories in recent years was with a company in Mexico named Proboca," Downes added. "It's a family-owned business, much like Farbest. We approached USAPEEC about funding for a marketing campaign. Proboca was starting to increase consumption of turkey and turkey products in Mexico. USAPEEC partnered with the Indiana corn and soybean checkoffs, and this paid dividends during the past 8-10 years."
After tailoring the turkey products to a Mexican palate, Farbest and Proboca found success.
"From our company alone, we sell $120 million a year in Mexico.," Downes said. "We started with selling (Proboca) a load or two. A load is 42,000 pounds per week. Now we're selling them anywhere from 9-12 loads per week; thanks to the increased demand for the product."
Creating a demand
Much like the beginnings of Farbest, the executives with Proboca said most Mexican consumers were accustomed to buying whole turkeys. And, most often, turkeys were a seasonal, holiday purchase. However, Proboca's market research was showing Mexican consumers were interested in adding turkey as a healthy protein into their meals.
"Back in 2013-14, we started the Dos Familia brand after conducting market research to see how turkey products would be accepted by consumers," said Mario Gorena, vice president of sales, operations and international supply for Proboca. "I would say consumers were aware of turkey as a healthy, good protein. They were not aware that they could use turkey as a day-to-day protein on the center of the plate. So that gave us an idea to see if we could add value to turkey products – an alternative protein for consumers." Farbest ships fresh turkey thighs to food processing facilities in places like Monterrey. Mexican workers then remove the bones by hand and prepare the meat for packaging.
"Since we started the brand, we say we've Mexicanized the turkey," Gorena said. "What we wanted to do is adapt a traditional Mexican dish by adding turkey or switching turkey into it."
For Farbest, this has created a valuable export market. "The growth in export markets and the growth of turkey as a great protein, has led us from buying about a million bushels of corn per year back in the early years to now buying more than 15 million bushels of corn in a year," said Farbest Foods President Ted Seger. "We try to source all of that corn locally here in Indiana. And same way with soybeans."
"We use soybean meal, so we have to bring the soybean meal in from crushing plants, primarily here in Indiana. About 30 percent of our turkey meat gets exported each year. So, I assume a lot of those checkoff dollars are supporting those efforts."
Chicken and pork remain as the preferred proteins in Mexico, and introducing a value-added turkey product would prove to be difficult for the company. Proboca launched promotional efforts in 2017 with USAPEEC's help, which was largely funded by the checkoffs.
The campaign included television and billboard advertising across Mexico. ISA and ICMC funding also aided Proboca in creating new branding, digital campaigns and in-store tasting promotions. As of now, Proboca and Dos Familias have seen the most success in tasting promotions where consumers can try the product in the grocery store before deciding to purchase it.
Proboca and the Dos Familias brand now owns more than 90 percent of the specialty turkey, value-added product market share in Mexico. But that success did not come easy, and it could not have been possible without USAPEEC's work and the financial support of Indiana corn and soybean checkoffs.