Grain Bin Safety
Grain bins serve a vital role for storing grain on the farm, but they also can be a very dangerous place if safety procedures are not followed properly. When working in these bins, workers can become entrapped in grain when unloading grain or trying to clean up buildup in the bin.
Grain bin entrapments can be very dangerous quickly. In 4 seconds, an adult can sink knee-deep in flowing grain and be rendered unable to free themselves without assistance. In just 20 seconds, an adult can be fully engulfed. (Source)
Suffocation from engulfment or oxygen-deficient atmospheres is the leading cause of death in grain accidents. (Source)
There were 42 fatal and non-fatal grain entrapment cases documents in 2022, representing a 44.8% increase from the 29 recorded in 2021 and substantially higher than the five-year average of 35 cases per year. Nearly 36% of the cases involved a fatality. (Source)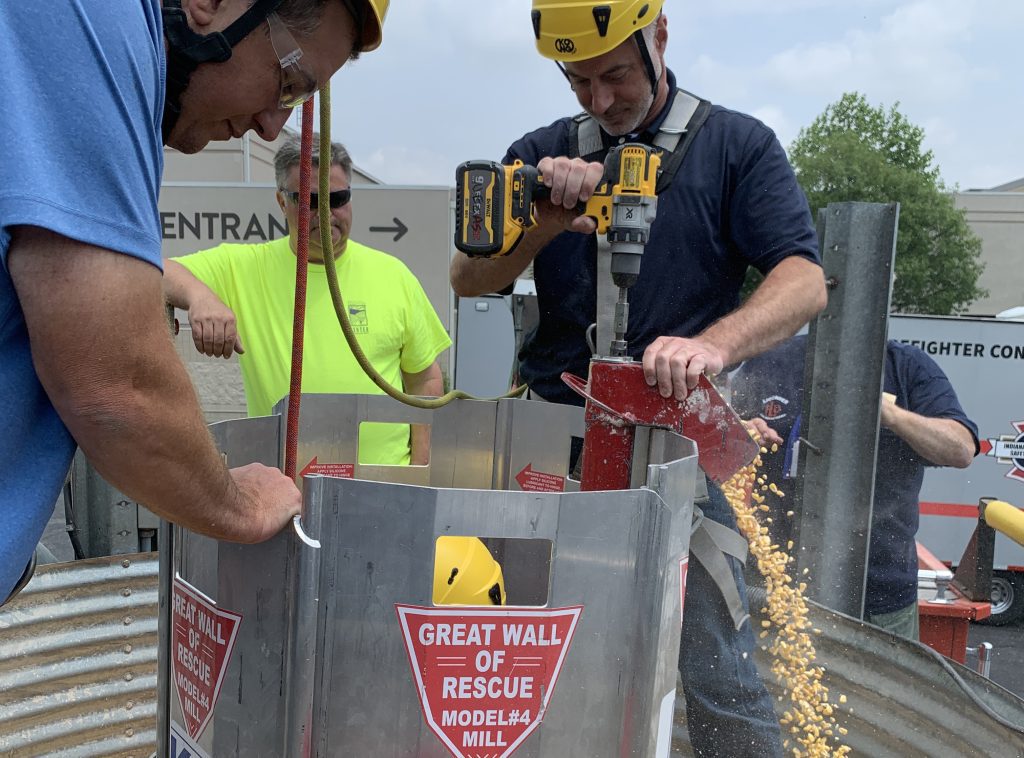 Reducing tragedy through training
As part of our effort to reduce grain bin tragedies, we have partnered with organizations such as Nationwide and the National Education Center for Agricultural Safety (NECAS) to provide free grain bin rescue training and equipment to volunteer fire departments throughout Indiana. Many times, rural volunteer fire departments are the first to respond to grain bin entrapments, so providing them with both the equipment and proper training to use that equipment is so important to save lives. Every second counts in these situations, so making sure our first responders are as prepared as they can be is so important.
Interested in getting training for your fire department?
If you are an Indiana fire department looking for grain bin rescue training and equipment, fill out the form below. We will follow up with you about your application with any questions or if we need additional information.
Grain Bin Rescue Training & Equipment Donation Application
Fill out this form below to apply for grain rescue training and equipment donation. We will follow up with you for any additional information or for next steps. Thanks!