ICMC, ISA and Beck's tout benefits of Upper White Cover Crop program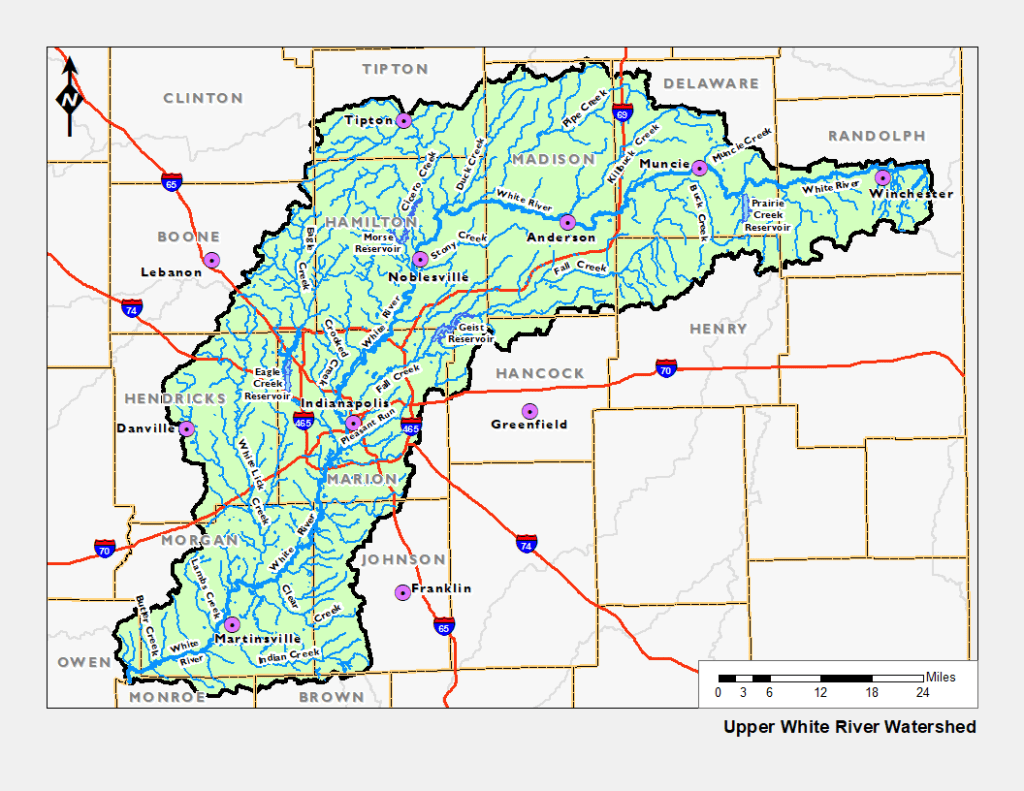 INDIANAPOLIS, Ind. (July 7, 2023) — The Indiana Soybean Alliance (ISA), Indiana Corn Marketing Council (ICMC) and Beck's Hybrids are excited to offer Indiana corn and soybean farmers in the Upper White River Watershed the opportunity to participate in a fully funded cover crop program this fall. The deadline to apply is Aug. 7.
The program includes enough cover crop seed and an option for aerial application for a 40-acre field located in the Upper White River Watershed The corn and soybean checkoff programs will also soil and biomass sample the field and report those results back to each participant.
The Upper White River Watershed spans multiple counties in east-central Indiana. The watershed channels rainfall and melting snow into creeks and streams and is the main source of freshwater for a large portion of Indiana residents. To help ensure that source of water is as safe and clean as possible, farmers are looking to keep nutrients and sediments in the field. Cover crops can be one way to achieve this goal, as proven by soil scientists from across the country.
Six years ago, ISA and ICMC introduced its Upper White Cover Crop (UWCC) program. Corn and soybean growers who sign up can participate each year as long as the program has open slots each summer.
In the 2017 Census of Agriculture, USDA reported Indiana ranked third in the nation for cover crop acres planted into corn and soybeans, at about 8.2 percent of those acres. According to a 2022 Conservation Survey conducted by the Indiana State Department of Agriculture and Indiana Conservation Partnership, the state's farmers planted roughly 10 percent of all cultivated acres in over-winter, living cover crops – including wheat. This also included 550,000 acres of cover planted in corn and 780,000 acres in soybeans prior to harvest in 2021.
The state's corn and soybean checkoffs use Beck's Hybrids seed and partner with the company for technical expertise. Beck's Small Seed Product Manager Ryan Moore, as well as ISA and ICMC Sustainability and Value Creation Director Ben Forsythe, provide the field sampling and look for ways to communicate the results of the program back to its participants. Each year, new participants in the UWCC receive a nutrient test from their 40-acre cover plot as a baseline and all growers receive above-ground biomass sampling to measure nitrogen and carbon sequestration levels.
By using cover crops and no-till, Moore said farmers can increase soil organic matter by one-quarter of 1 percent in 10 years. He said a 1 percent difference in matter between two fields means the higher-organic soil can hold another 25,000 gallons of water per acre in its pores – not pooled on the surface, but down where plant roots can pull productively from it.
Moore said farmers can start seeing a visible difference in their soil health within 3-5 years of planting annual cover crops. "You have soil, versus what I call 'dirt' in a conventional tillage system," he noted.
Farmers in UWCC have the cover seed broadcasted by plane in late August or early September to take advantage of rain to help establish the crop before the weather starts getting cool. Moore said the timing is also meant to be convenient for farmers, and they don't have to worry about buying the seed and running a planter. Self application is also an option this year. First-year participants are delivered a terminal oat/radish mix, while those in subsequent years receive a non-terminal mix of rye, radish, oat and rapeseed planted in corn or a winter rye and rapeseed mix planted in soybeans.
Mat Berger, who grows soybeans and corn in eastern Indiana, is in his third year in the program. "It just kind of gives you a lot of flexibility; you don't have any money invested in it," he said. "It's really simple to use, really easy to sign up, and I've never been billed for anything. There's no risk, so why not try something new if there's no cost up front?"
To sign up for the Upper White Cover Crop Program, sign up below:
or contact ISA and ICMC Sustainability and Value Creation Project Manager Madeline Lilly at mlilly@indianasoybean.com