Spanish Paella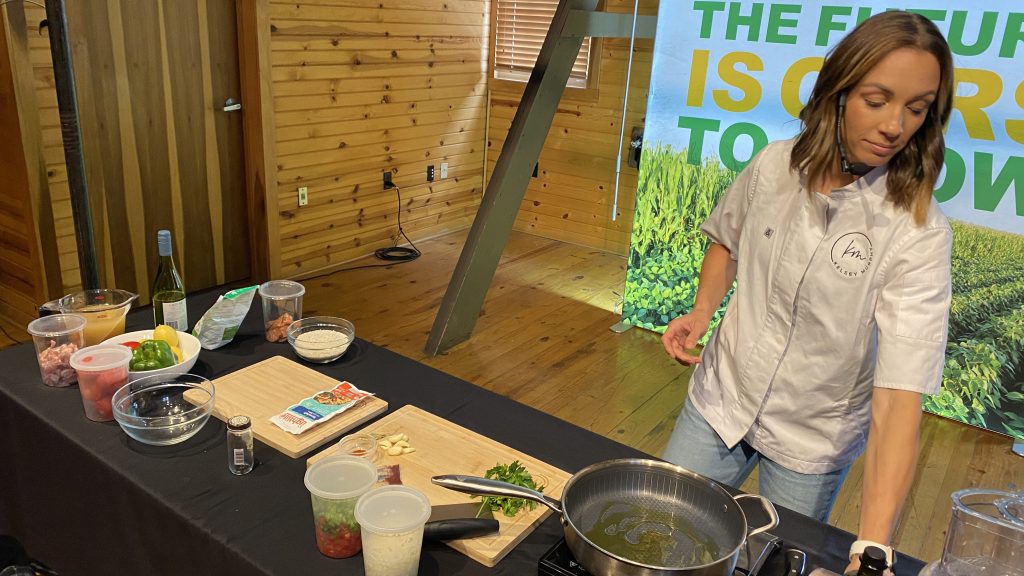 Check out this soy-based recipe by our friend Chef Kelsey Murphy! It includes tempeh which is made from soybeans, just like the ones our Hoosier farmers grow.
Ingredients:
1/4 Cup of Extra Virgin Olive Oil
1 yellow onion, diced
1 bell pepper, diced
3-4 cloves garlic, minced
4 roma tomatoes, diced
1 bay leaf
1 teaspoon paprika
pinch of saffron
1/2 teaspoon salt
1/4 teaspoon pepper
1/4 cup white wine
8 oz Tempeh, cubed
4 boneless, skinless chicken thighs, cute into bite-sized pieces
1/4 cup fresh parsley, chopped
2 cups medium grain rice
5 cups chicken stock
1/2 cup of frozen peas
lemon slices for garnish
Directions:
Add olive oil to a large skillet over medium heat. Add the onions, bell peppers, and garlic and cook until onion is translucent. Add chopped tomato, bay leaf, paprika, saffron, salt and pepper. Stir and cook for 5 minutes. Add white wine and cook for 10 minutes. Taste and add salt if needed.
Add Tempeh and chicken pieces and cook for 2 minutes. Then add rice, and parsley and cook for an additional 1 minute to toast rice.
Pour the broth slowly all around the pan and jiggle the pan to get the rice into an even layer. (Do not stir the mixture going forward!)
Bring the mixture to a boil. Reduce heat to medium low. Give the pan a gentle shake back and forth just once or twice during cooking.
After 15 minutes nestle peas into the top of the rice. Continue cooking an additional 5 minute until rice is just tender on top.
Remove from heat and allow to rest, covered, for 10 minutes. Garnish with lemon slices and additional fresh parsley just before serving.
Find out more information about corn and soybeans in food, recipes, and other food resources: