Dieticians, nutritionists learn about the value of soy-based foods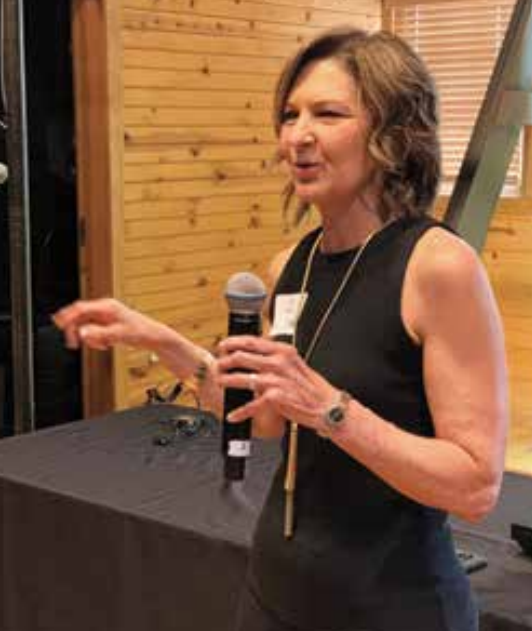 The Soybean Nutrition Institute Global (SNI Global) and the Indiana Soybean Alliance (ISA) provided registered dietitians with an opportunity to learn more about the health benefits of soybean-based foods during an event on June 14 at the Normandy Barn on the Indiana State Fairgrounds. SNI Global was founded as the Soy Nutrition Institute in 2004 by the United Soybean Board.
"Our goal was to give dieticians in Indiana an opportunity to learn about how a soybean comes from the field to the plate, giving opportunity for dietitians to learn more about the health and nutrition benefits of soy protein and soy oil, and then also get to hear from a soybean farmer," said Sarah Alsager, director of communications and outreach with SNI.
"One of those markets is human consumption. As more and more companies are considering putting a plant protein in their ingredient list, we wanted to use soy protein isolate or concentrated sources of soy protein. I think that's really our goal to enhance the farmer's livelihood." The meeting's agenda included:
Mark Messina, SNI Global director of nutrition science and research, examined the health and nutritional attributes of soy foods.
Kim Galeaz of Galeaz Food & Nutrition Communications discussed how and where to find soy-based foods.
Kelsey Murphy, an Indiana chef who was the winner of the MasterChef: Legends television show, cooked and served a skillet dish called Spanish Paella while answering questions from the audience.
Alsager said soy foods are not in competition with beef, pork and poultry. Instead, she said meat and soy products work well together on the same plate for breakfast, lunch and dinner.
"A lot of the consumer market research that we've seen shows that consumers are not reducing their animal protein intake – they're simply increasing their plant protein intake," she said. "So if someone's going to choose plant protein, we want them to choose soy protein."
To wrap up the day's events, the attendees travelled to the Greenfield, Ind., farm of Marc and Heather Hill, who raise corn, soybeans, wheat and hogs.
"We were able to bring them to the farm and show them we're normal people, too," Heather said. "We were able to show them that this is where we live, and this is how we raise our animal. We were able to give them a true visual of how the pigs are being raised, where we're making their feed, and where we're growing the crop that becomes their feed." For more information, including soy recipes, visit sniglobal.org.