Expanding trade policies will reduce burdens on Indiana farmers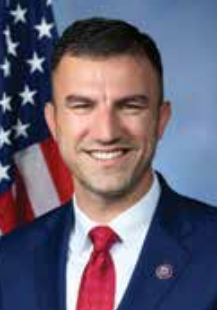 BY REP. RUDY YAKYM
Republican, Indiana District 2
Dear friends and fellow Hoosiers: It is an honor to serve Indiana's Second District in Congress. As a fourth-generation Hoosier, it is a tremendous privilege to represent the good people from the place that my family has called home for decades.
As a relatively new Member of Congress, I have made it a priority to hear directly from my constituents and learn what's on their mind. I often say that you can't represent people you don't know, and so hearing their concerns first-hand is an essential part of being effective voice for the Second District.
The importance of getting this kind of feedback is especially true when it comes to Hoosiers who, by the sweat of their brow, provide our nation and the world with an abundant and reliable supply of food.
I am proud that the agricultural industry is such a vital part of the Indiana economy. In fact, it accounts for more than $31 billion of our state's economic output and nearly 200,000 jobs. Hoosier farmers don't just feed Americans, they feed the world – as we are the eighth-largest state for agricultural exports. Our agricultural exports are not only a source of jobs and revenue for our state, they are also a source of pride for all Hoosiers.
That is why I am committed to having the back of our farmers and agriculture producers and fighting for policies that help them to get and stay ahead. It is no secret that we grow some of the best produce anywhere in the world right here in Indiana. If our farmers and ranchers can compete on an even playing field with other nations, our exports will win every day.
To that end, one of the top concerns I have heard from our farmers is Mexico's attempt to block imports of most U.S corn. Unfortunately, this proposed ban, which could take effect next year, is not rooted in science but in politics.
Not only would this planned ban devastate the U.S. economy and harm our corn growers, it would also harm the Mexican people by reducing the supply and raising the price of the corn they consume and feed to their livestock.
The ban is clearly in direct violation of the United States-Mexico-Canada Agreement (USMCA) negotiated by former President Trump and approved by Congress.
That is why I authored a letter last month along with my friend and colleague U.S. Rep. Greg Pence (R-Dist. 6) to the U.S. Trade Representative and the Department of Agriculture urging them to address this barrier and enforce the trade agreements we have on the books.
I am confident that the letter Congressman Pence and I wrote, which was signed by all Republican Members of the Indiana delegation, will help bring a swift resolution to this issue so our farmers and ranchers can count on trade policies that are fair and expand – not limit – their economic opportunities.
As I continue my service in Congress, I look forward to hearing more of your insights and partnering with you to deliver Hoosier commonsense and solutions that improve the quality of all our lives.