Indiana Corn, U.S. Grains Council tout ethanol to Latin American influencers 
By Dave Blower Jr. 
Indiana farmers know how to grow corn. Indiana is the fifth-largest corn-producing state in the country, according to the USDA. Indiana ethanol producers know how to turn that corn into a valuable renewable fuel. The state's 15 ethanol plants produce more than 1.4 billion gallons per year.
Corn checkoff organizations, such as the Indiana Corn Marketing Council (ICMC) and the U.S. Grains Council (USGC), make it a priority to find buyers for ethanol and improve the value of Indiana's corn crop. To accomplish this mission, ICMC and USGC hosted opinion-makers, communication and public officials from Panama, Costa Rica, Guatemala, Peru, Colombia and Chile for a tour of Indiana's ethanol supply chain.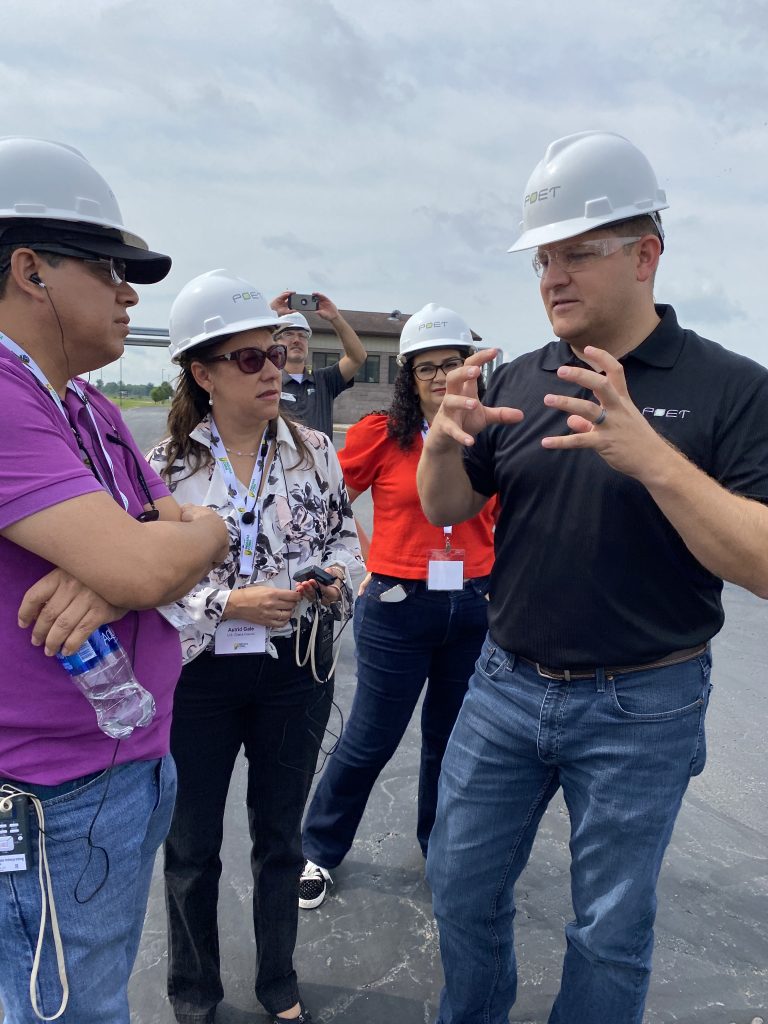 The tour started in the cornfield of an Indiana farm, followed a grain truck to a nearby ethanol plant, watched ethanol filling gas tanks at a fuel station, then experienced the power and speed of ethanol-fueled racing cars. The tour attendees learned about the U.S. ethanol industry, the U.S. Renewable Fuels Standard (RFS) and the benefits associated with the use of ethanol for transportation. The tour provided first-hand information to Latin American media, allowing them to gather objective details of the U.S. ethanol sector and its potential use in Latin America.
"The purpose of this tour is to highlight the reliability, economic and environmental benefits of U.S.-produced ethanol to people who influence the buying decisions of many people from Latin American countries," said ICMC Biofuels Director Helena Jette. "We also like to show the high-performance aspect of ethanol. By taking them to see the Shift S3ctor Indy Airstrip Attack half-mile exotic drag racing at the Marion airport where drivers are using E85 racing fuel and the NASCAR Brickyard 200 race where drivers are using E15 at the Indianapolis Motor Speedway, these influencers were able to see that ethanol enhances performance."
She added that ethanol helps all Hoosiers by reducing greenhouse gas emissions and improving air quality. In fact, the American Lung Association reports that ethanol improves air quality by replacing some of the most harmful components in gasoline. This results in 43 percent fewer greenhouse gas emissions than gasoline. Indiana ranks as the 6th-largest producer of U.S. ethanol. The Hoosier State produces nearly 8 percent of the total U.S. ethanol output. Collectively, Indiana's ethanol plants consume about 45 percent of Indiana's total corn crop – around 450 million bushels.
Everything starts on the farm
The USGC brought the tour group to one of its leaders to start the program. Recent USGC President Josh Miller, a farmer from Anderson, Ind., hosted the tour and explained how he grows the crop that makes the fuel. Miller said, like many Hoosier farmers, much of his corn crop goes toward ethanol production.
"Almost half of Indiana's corn is converted into ethanol," he said. "Ethanol positively serves our state's economy, environment and local farmers. The U.S. Grains Council and the state's corn checkoff are doing all they can to help fuel retailers take advantage of the benefits of ethanol blends. One of our priorities is to spark conversation and collaboration across the industry. Tours like this support that mission."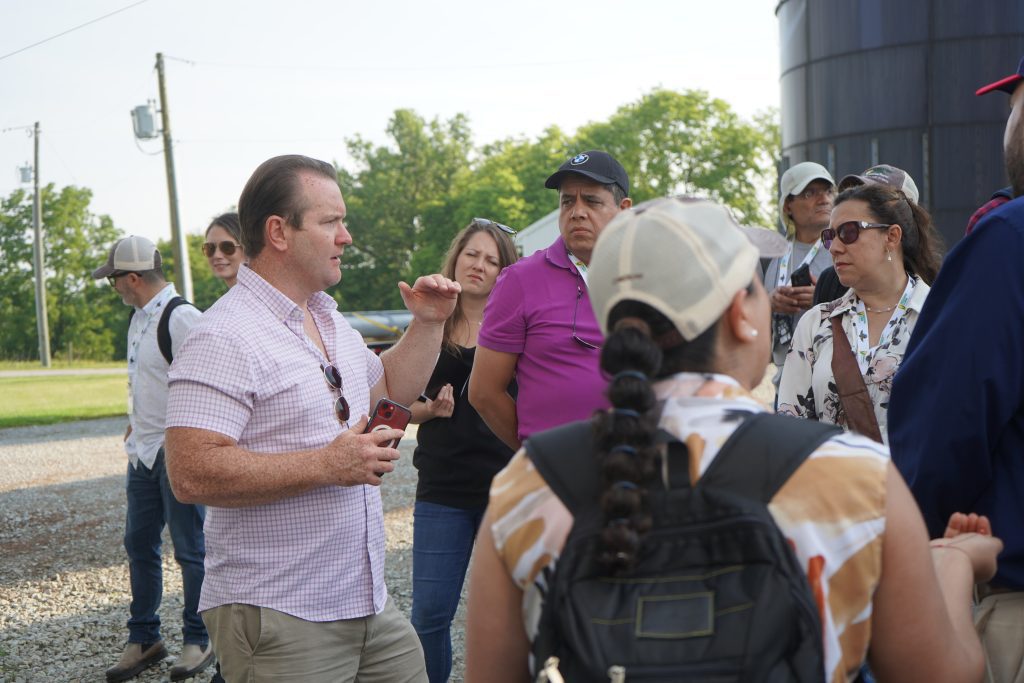 The USGC develops export markets for U.S. barley, corn, sorghum and other related products including distiller's dried grains with soluble (DDGS) and ethanol. With a full-time presence in 28 locations, the USGC operates programs in more than 50 countries and the European Union. USGC believes exports are vital to economic development and to U.S. agriculture's profitability.
The Latin American visitors next toured the POET ethanol biorefinery in Alexandria, Ind. This state-of-the-art bioethanol production facility consumes more than 21 million bushels of locally grown corn to produce 90 million gallons of bioethanol annually.
The next stop was a Casey's gas station in Marion, Ind. Many Casey's gas stations sell higher blends of ethanol such as Unleaded 88, a blend of 15 percent ethanol with 85 percent gasoline, and E85, a blend of 85 percent ethanol and 15 percent gasoline. The Marion store sells each of these blends, too. ICMC has helped Casey's expand its ethanol offerings through a program that pays for pumps that sell higher ethanol blends.
High performance, low carbon
The rest of the tour was dedicated to racing. The attendees watched timed racing at the Marion, Ind., airport called the Indy Airstrip Attack, which is a Shift S3ctor event. This racing features all varieties of sports cars and motorcycles racing a stopwatch for the best times over a straight, half-mile track. All of the cars were powered by ethanol-blended fuels, and the race itself was sponsored by ICMC.
Shift S3ctor co-founder Jason Huang said the maximum numbers of drivers signed up to participate in this year's race. "From a race weekend perspective, it was incredible. We were at max capacity in terms of race cars. We had nowhere left to park them," he said. "It was amazing to see that many cars come out to Marion, 95 percent of those cars were not even from the state of Indiana.
For more details about Shift S3ctor, go to its website at shifts3ctorcom.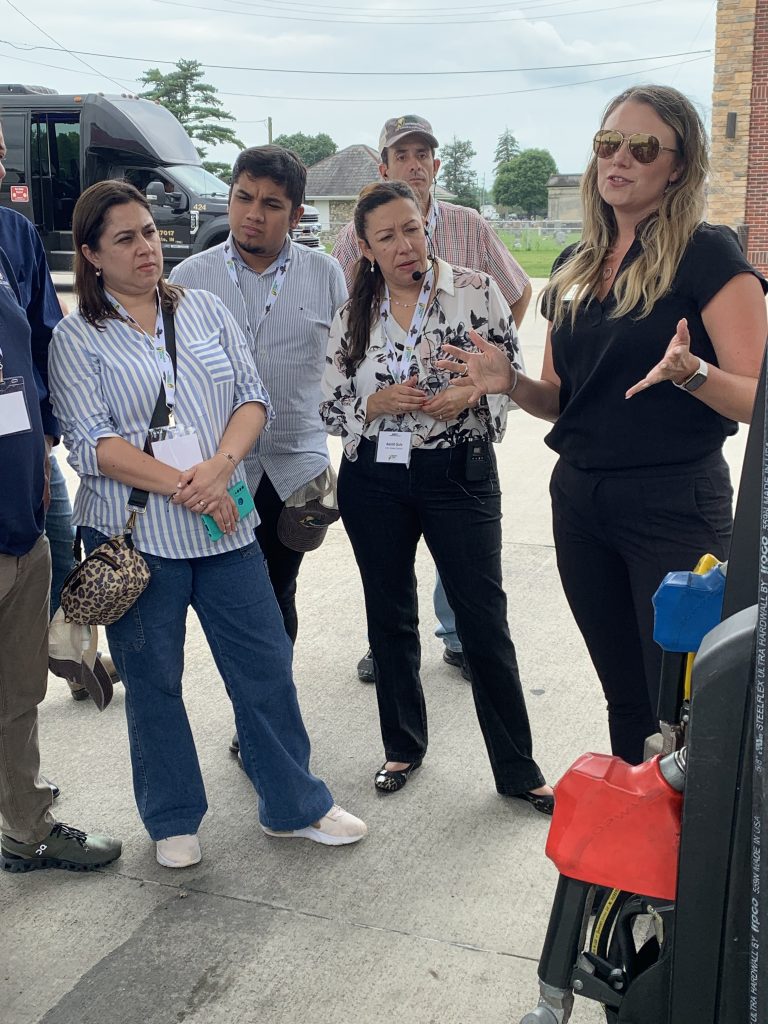 Aside from being entertaining for the Latin American visitors, Jette said auto racing is an excellent way to showcase the high performance of ethanol-blended fuel. Ethanol has the added benefit of being more environmentally friendly than petroleum-only fuels.
The next two races were at the famed Indianapolis Motor Speedway (IMS). On Saturday, August 12, the attendees watched the NTT IndyCar Series drivers race the Gallagher Grand Prix on the IMS road course. On Sunday, Aug. 13, the Latin American influencers watched NASCAR drivers compete in the Verizon 200 race on the IMS road course. The NASCAR drivers were also racing on corn ethanol-blended fuel.
"This weekend's events were more than a good time watching all types of racing," Jette said. "This has been an excellent opportunity to share the story of Indiana-made ethanol."