ISA Leaders Head to Washington for Farm Bill Discussions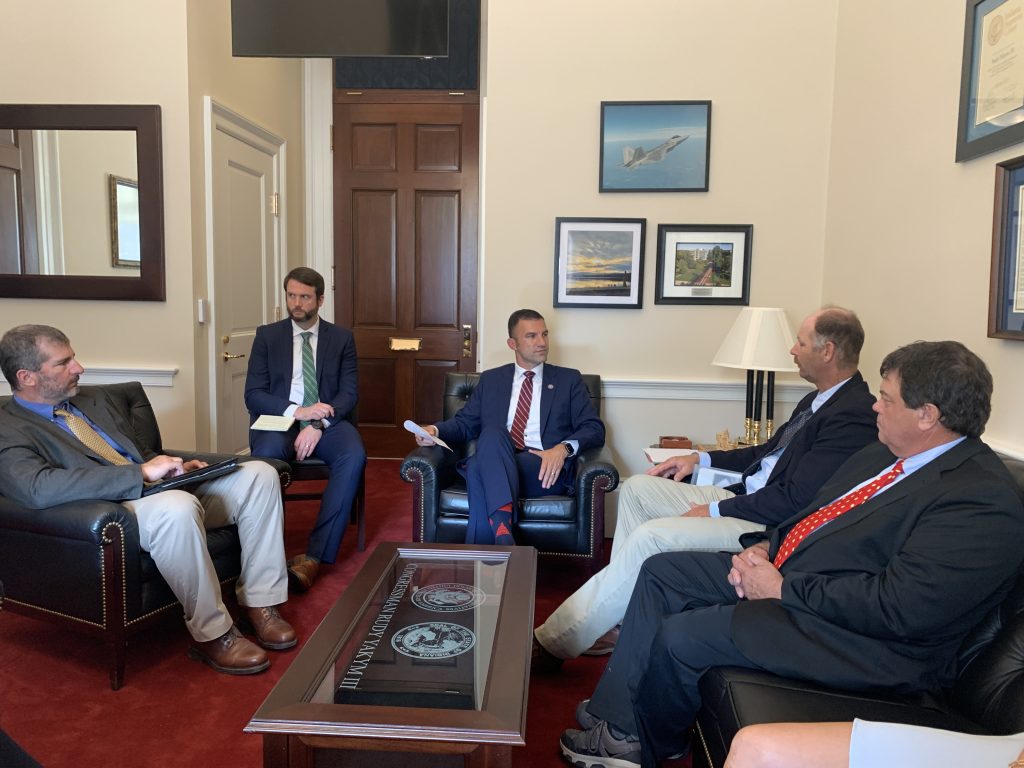 Four Indiana Soybean Alliance farmer leaders joined staff in Washington, D.C. July 10-12 for the American Soybean Association's Board of Directors meetings. These farmer leaders included Kendell Culp (Jasper County), Mike Koehne (Decatur County), Phil Ramsey (Shelby County) and Keevin Lemenager (Morgan County). During their time in D.C., they dedicated a full day of visiting our federal legislators to advocate for 2023 Farm Bill priorities and agriculture policies important to the state's soybean farmers.
The 2018 Farm Bill expires in September, and legislators are currently going through an extensive process of updates, proposals and debates before the new bill will be passed by Congress and signed into law by the President. ISA farmer leaders called upon Indiana delegation and pertinent committee members to support the following priorities in the 2023 Farm Bill:
Improve the Title I safety net by increasing the soybean reference price. The current soybean statutory price is $8.40 while a bushel of soybeans was valued at $15.50 in July of last year. By increasing the coverage factor to be closer to the current price, the safety net would be more effective, accessible and reliable for farmers.
Protect and enhance crop insurance to assist with volatile weather and crop loss. Our farmers shared personal stories about how crop insurance was vital to their farms and families during the 2012 drought. They also expressed the need to make crop insurance accessible to young farmers and first-generation farmers to protect their growing assets.
Expand trade promotion programs to help grow and diversify agricultural markets. Soybeans are an important Indiana commodity as 65% of soybeans are exported. It is important to continue to diversify and expand our markets as trade tensions grow in countries like China and Mexico. Through trade discussions, our farmer leaders also stressed that the infrastructure of our waterways, rail, and semi-trucks are an important factor to soybean trade.
Build opportunities for biofuels. Our farmers asked that legislators improve the USDA Energy Title and update the USDA lifecycle analysis of biodiesel, renewable diesel and sustainable aviation fuel.
ISA's Membership and Policy Committee members are committed to continuing the conversations of our farm bill priorities with our federal legislators as they work toward passing the next farm bill. There will be opportunities for you to engage in policy discussions with our federal and state legislators through our Shop Talks in August. Stay tuned for more information as Shop Talk dates and locations are announced.
Learn more about our soybean focused priorities: