Year-Round E15 and Ethanol Policy at Biofuels Summit in DC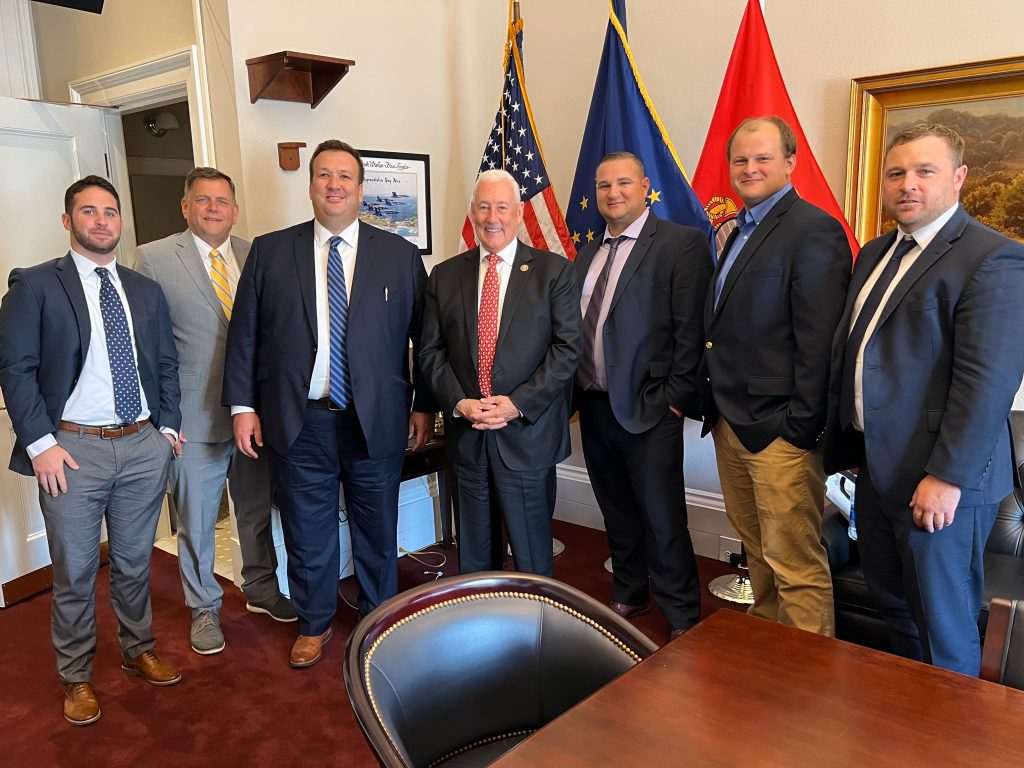 More than 100 members attended the 14th annual Growth Energy Biofuels Summit Sept. 11-14 in Washington D.C. Indiana Corn Growers Association (ICGA) Board Member Tyler Everett joined staff in hearing an update on ethanol policy issues and participating in meetings with lawmakers on Capitol Hill.
The Boone County farmer said it's important to discuss issues that impact corn growers with representatives and senators.
"We had several good meetings with our delegation," Everett said. "Our big push right now is year-round E15 sales and trying to update the language to help give us better markets and access to higher blends of ethanol."
Steve Howell, senior director of industry affairs with ICGA, said the main issues conveyed to congressional offices included support for several bills including HR 1608, sponsored by U.S. Rep. Adrian Smith (R-Neb.), as well as S 2707 and S 785, both sponsored by Sen. Deb Fischer (R-Neb.).
"These bills will allow retailers to sell E15 year-round," he said. "Current law prohibits E15 sales in summer months in certain areas. This has stifled fuel retailers' efforts to offer the higher-ethanol blended fuel and has limited consumer savings and choice."
Trade issues were also a top discussion item with congressional offices. U.S. trade policy must ensure fair access to low-carbon ethanol in markets like Canada, India, Brazil, Japan and the United Kingdom. Howell said they also asked congressional leaders to address Brazilian import tariffs on American ethanol and the non-tariff barriers in place that further complicate bilateral ethanol trade with Brazil.
Summit participants also discussed the 2023 Farm Bill, which is a priority for the state's farmers planning to grow a crop next year.
"We're encouraging representatives and senators to get a farm bill completed this year, so we have some certainty on the farm and know what programs are available," Howell said. "We're already planning a lot of next year's crop and we need to know what the farm bill is going to provide."
The current farm bill expires Sept. 30. Both chambers are focusing on completing appropriations bills to fund the federal government. Howell said ICGA would like to see an extension of the current farm bill and a new bill passed by the end of the calendar year.
Tim Phelps, executive director of the Indiana Ethanol Producers Association, and Adam Homan with the POET Biorefining plant in Portland, Ind., joined ICGA during the Hill visits.
This year's Biofuels Summit shined a spotlight on how the biofuel industry is delivering on the nation's energy, climate, economic, and human health goals. General sessions included remarks from Growth Energy CEO Emily Skor and Chairman Dan Sanders.
Helena Jette, biofuels director with ICGA, said USDA Secretary Tom Vilsack spoke about the administration's view on the role biofuels will play in decarbonization efforts.
"Throughout his remarks, Vilsack demonstrated his commitment to the issues that matter most to biofuels producers and their farm partners," Jette said. "He talked about the diversified, profitable and sustainable future of American agriculture and how "sustainable aviation fuel (SAF) is a critically important component of that."
National Climate Advisor to the White House Ali Zaidi also spoke on the important role of biofuels for the administration's plan to reach net-zero.
Education panels during the event consisted of experts discussing the Inflation Reduction Act's 45Z carbon reducing investments, carbon modeling and SAF role into the future, liquid fuels discussions around year-round E15, and fuel retailer perspectives of how the program needs to continue for consumers to enjoy the cost benefits and environmental benefits to reducing carbon footprints.
---
ICGA is an membership organization that serves as the policy voice of Indiana's corn farmers. ICGA is led by a board of directors committed to continuing the conversations of farm bill, biofuels, trade and other ag policy priorities with federal and state legislators. Policy advocating is not funded by checkoff dollars. Membership dollars empower ICGA to influence policy and regulatory matters impacting the U.S. corn industry. We are at the table with lawmakers advocating, so you can focus on your farm.