Conservation, ag finance and ISDA Director Don Lamb highlight Ag Policy Summit 
By Dave Blower Jr.
Expanding conservation opportunities, the challenging financial landscape for farmers, and a message from a state leader in Indiana agriculture were the highlights of the Ag Policy Summit on July 26 at the Howard County Fairgrounds in Greentown, Ind. The Summit is an annual policy-focused program presented by the Indiana Soybean Alliance's Membership and Policy Committee (M&P) and the Indiana Corn Growers Association (ICGA).
M&P Chair Keevin Lemenager, a farmer from Monrovia, Ind., and ICGA President Scott Smith, a farmer from Windfall, Ind., welcomed more than 90 farmers, industry stakeholders and the staff of state and federal lawmakers to the annual event.
"We hold this event every summer, so that farmers and industry professionals can come together to discuss the pressing issues of the ag sector," Smith said. "We could not put on these events without our members or our many sponsors."
The corporate sponsors for this year's Summit were FMC, First Farmers Bank & Trust, Beck's Hybrids, Corteva Agriscience, United Soybean Board, Farm Credit Mid-America, Conexus Indiana, TTG Equipment, Merrell Brothers Drainage Division, Timpte Trailers, The Andersons, the Indiana Soybean Alliance (ISA), the Indiana Corn Marketing Council (ICMC) and First Financial Bank.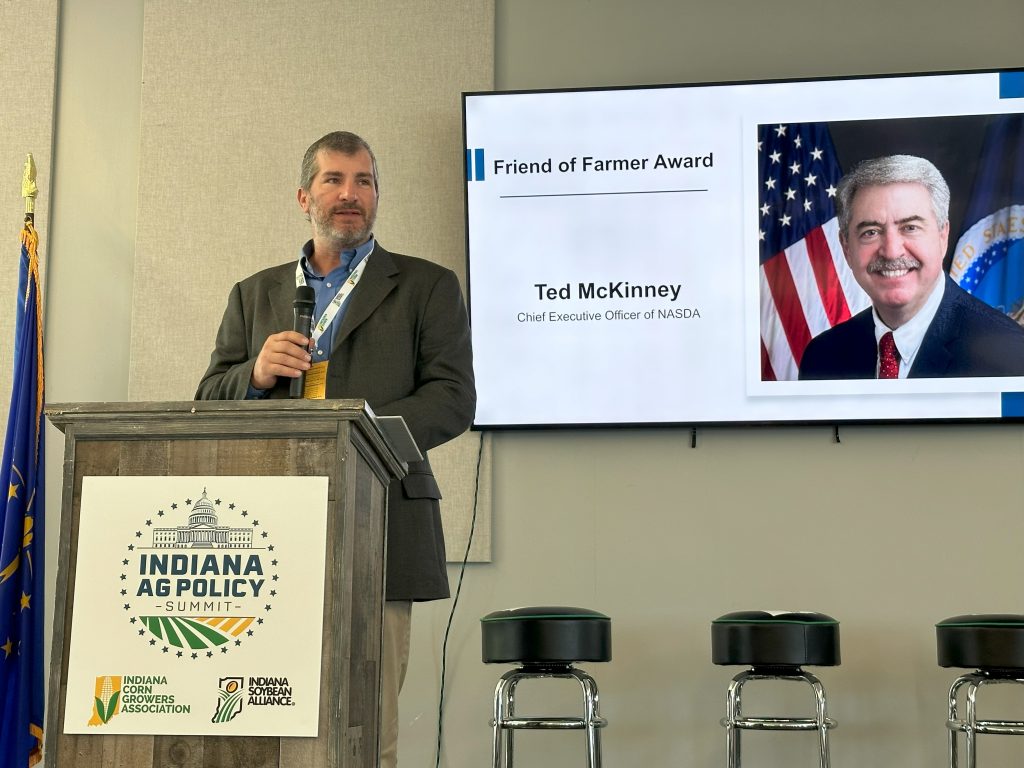 Lemenager added a call for membership to M&P and ICGA. "As many of you know, we are membership organizations that serve as the policy voice of Indiana's soybean and corn farmers," he said. "Our policy work is not funded by checkoff dollars. That means we must rely on membership dollars and corporate contributions to ensure farmer voices are heard and to address issues at all levels of government that directly affect Hoosier farmers." 
ISA Chair Mike Koehne, a Greensburg, Ind., farmers, said the state's soybean checkoff program appreciates the work provided by M&P and ICGA. He said the policy organizations can talk to lawmakers about better policies while the checkoffs create relationships to get work done for Hoosier farmers.
"ISA, along with ICMC, have continued building relationships with foreign trade partners so that our soybean and corn export markets stay strong," Koehne said. "These countries include Colombia, Panama, South Korea and Vietnam to name a few. We have also been funding research and building key relationships with transportation partners so that our Indiana agricultural infrastructure like roads, bridges and waterways, stay strong."
Expanding conservation opportunities
Among the Summit's topics included expanding conservation opportunities for Indiana farmers through boosted government funding. John Ketzenberger, Director of Government Relations for The Nature Conservancy, a global environmental nonprofit group, told farmers that recent government spending bills adopted in Congress will allow many planned projects to move forward.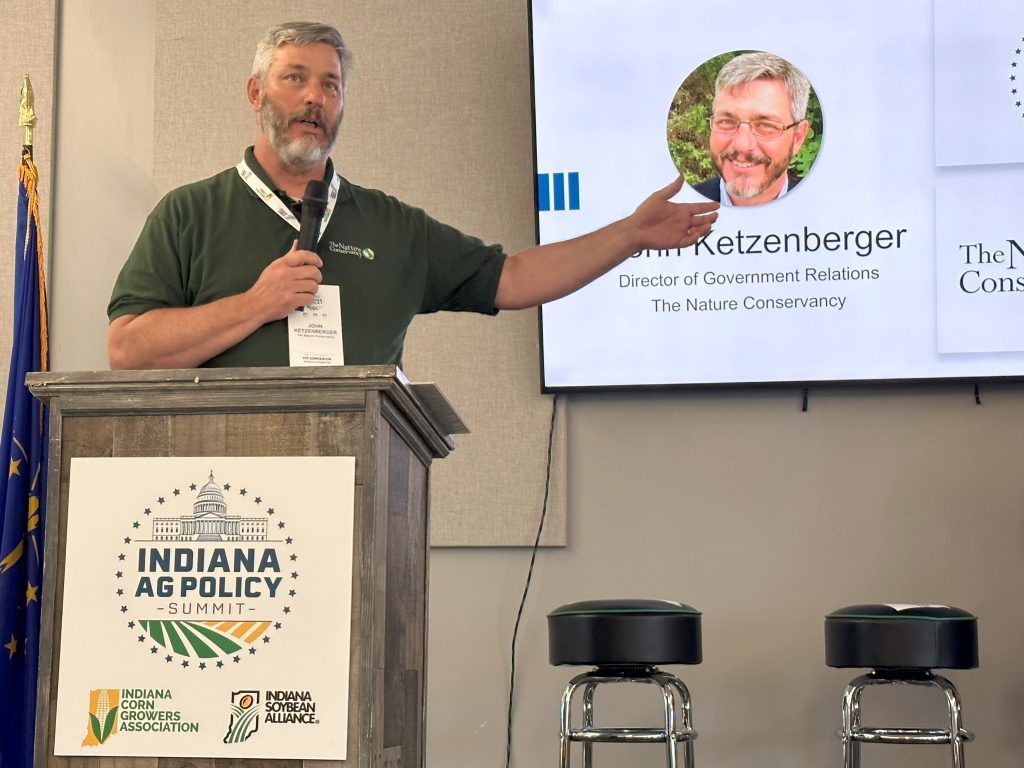 Ketzenberger said $40 billion of the 2022 Inflation Reduction Act was set aside for ag-related conservation programs. Included in that spending is $19.5 billion for USDA Natural Resources Conservation Service (NRCS) programs and $8.45 billion for the Environmental Quality Incentives Program (EQIP). He said the funding should allow USDA to clear a backlog of EQIP projects within two years. However, there is concern about being able to hire enough qualified people and contractors to finish those projects.
During his talk, Ketzenberger introduced Seth Harden, the Upper Wabash River Project Director for The Nature Conservancy, and Clint Orr, a farmer from rural Clinton County, Ind., who has worked with The Nature Conservancy on many projects. "NRCS is on a hiring spree," Harden said. "There is a concern about the capacity of labor available to get the projects done quickly. There are only so many people who understand the languages of conservation and agriculture."
Harden called Orr "an innovator" and an "early adopter" of conservation projects, and a farmer who has not had to sacrifice major yield performance for environmental benefit. Orr said he only owns 600 acres of the 3,200 acres that he farms, and he often works with landowners who have varying opinions about his conservation efforts. "Most of our landlords understand what we are doing and appreciate it," Orr said. "But our landlords run the gamut of opinions, and some of them require more explanation of what we're doing."
Farming since 1989, Orr said he's experimented with many farm management techniques, and he's kept what works best. "Conservation, really, is farming ugly," he said. "Our farm doesn't really look like every other farm out there, but everything we do is with the long-term benefit in mind. I think everyone would rather be incentivized with a carrot instead of a stick. I think it is always better to be rewarded for innovation. With my personality type, this is what keeps farming interesting and fun."
Managing financial risks
Eric Pfeiffer, Vice President of Hoosier Ag Today and a farm radio broadcaster, served as the Summit's emcee. In that role, he led a financial panel discussion featuring Benton County, Ind., farmer and Indiana Corn Marketing Council board member Natasha Cox, a Regional Vice President of Ag Lending for Farm Credit Mid-America; Mark "Doc" Holt, President of First Farmers Bank & Trust; Aaron Gillum, Senior Vice President at 50 South Capital Advisors; and John Rassi, a Certified Public Accountant with CliftonLarsonAllen (CLA).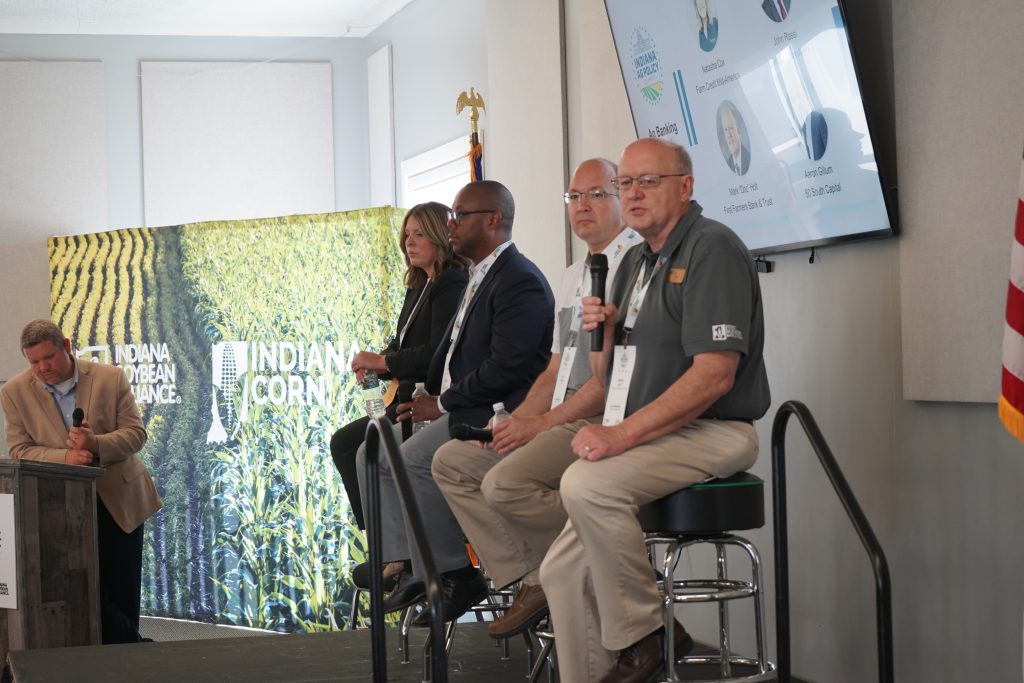 Cox and Holt started with a discussion about rising interest rates and what that means to credit, loans and investments. Holt asked the Summit audience if they thought interest rates would decrease, increase or stay the same. The majority of those in the room expect interest rates to increase, though Holt said he thought they would "level off." Cox said, "Although interest rates are increasing, historically, they are in line."
Managing higher interest rates and other financial risks requires advice and planning, Cox added. "Think about your farm as a business because that's really what your farm is," she said. "Then think about who is going to be on the board of directors of your business. Are the other members of your family farm on your board? Do you consider their advice? I think it is a good idea to include outside members on your board – perhaps a banker, an agronomist or someone else who understands what you're trying to do."
Rassi agreed that planning is essential. He said that farm succession planning is among the key components of his business. "I think what people need to understand is that not planning is a plan," Rassi explained. "That may not be a good plan, but not planning will have its result, too."
He said there are three reasons why most farmers don't start a farm succession plan:
Farmers don't know who to trust to help with this planning.
Farmers are reluctant to give up control of their farm too soon.
And no one, farmers included, wants to think about death.
Gillum is a venture capitalist helping investors to find technology start-ups in the Midwest and New York City. He said that investors and creators of new farm and food start-up companies want to talk to farmers about their needs.
"In preparing for this meeting, I looked into ag tech funding deals over the last three years," he said. "In 2022, there was a drop off in dollars in ag tech investment. However, there was an increase in the number of deals. That means there are more people looking at getting involved in the ag tech space. For anyone interested, this sector is continuing to grow. Almost all of it is related to people wanting to know what's in their food. Most of the new businesses are catering to that desire. There is a lot of opportunity to engage here."
Cox encouraged farmers to have these discussions or to consider investing in these new businesses because they could fuel growth in agriculture. "The important thing is that this is important to our producers," she said. "Farmers need the new technology or tools that can be developed through new start-ups."
Indiana agriculture 'a strong team'
ISDA Director Don Lamb, who was named to the position earlier this year, told the Summit attendees that Indiana agriculture "is a strong team."
He said the state has many stakeholders that work together in advancing Indiana agriculture as an industry. Lamb said those stakeholders include ICGA and M&P in addition to the Indiana Soybean Alliance and the Indiana Corn Marketing Council.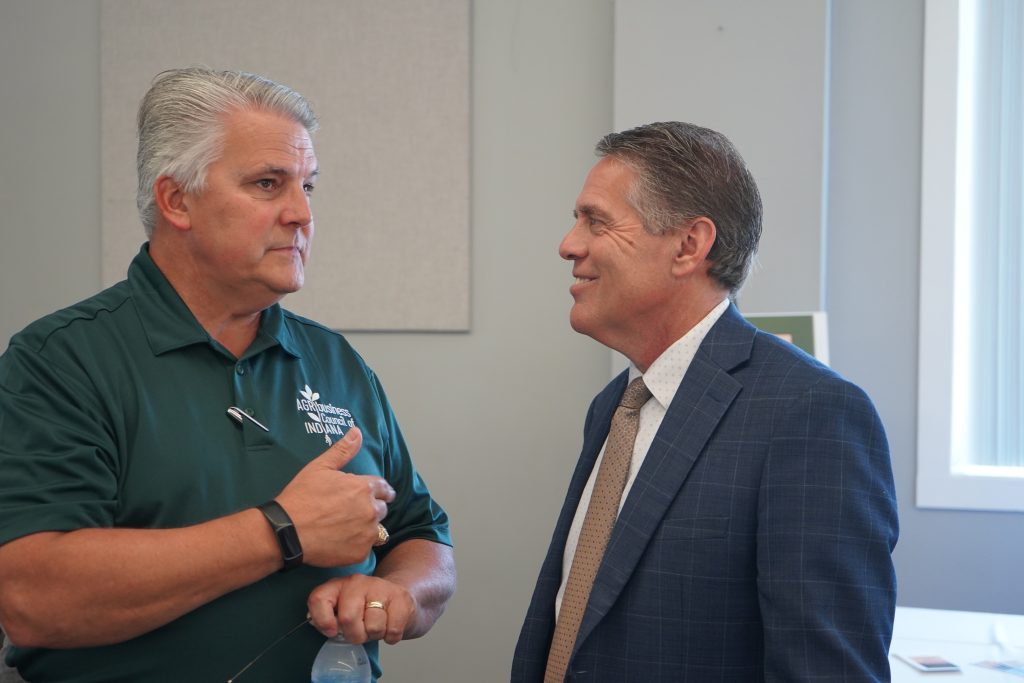 "Agriculture is awesome, and we don't talk about that often enough to people outside of agriculture," Lamb said. "Agriculture is special. It's all about people; it's all about planning, and it's all about action. That last point – action – is very important. When you leave here today, I hope you call someone and say, 'what can we do about this?' Because without action, a lot of the information you hear today will lose its value."
Lamb is a second-generation farmer for Lamb Farms in Boone County, Ind. Along with his father, brother and nephews, they produce corn, popcorn, seed soybeans and seed wheat. The family farm also owns two other enterprises: AgRecycle, a composting business, and Lamb Farms Agronomy, which provides neighboring farmers with agronomy products and services. Lamb stays involved in management aspects of the farm and joins in operations whenever he can.
Lamb's main priority is leading ISDA's five divisions, which include, agricultural advocacy, economic development, youth development, environmental stewardship and the Indiana Grain Buyers and Warehouse Licensing Agency. He said the best way to accomplish goals is to focus on a few.
"The best advice I received was to focus on something," Lamb said. "You want to be everything to everyone, but if you don't focus on something, then you won't get anything done. The one things that comes to mind, so far, is economic development. It really means quality of life. It is so important that every division of government has a focus on economic development.
"The Indiana Economic Development Corporation is really making things happen. There's a lot of money flowing into Indiana, and that's a good thing. We've developed a really friendly business environment here. And, as farmers, we want to be a part of that."